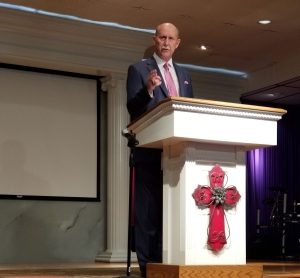 Pastors Ronnie & Kathy were both born in a small town in the mountains of Western North Carolina. Pastor Ronnie the son of a sharecropper grew up outside the church, but his grandmother knew there was a call of God on his life. The two met and married and started raising a family. Kathy worked in a sewing factory and attended a Baptist church along with their two small girls. Ronnie, who had returned from Vietnam, had no desire to attend church. He wanted nothing to do with church and especially preachers. Alcohol and drugs soon started to consume his life.
But one night on a rural road he had an encounter with God that would alter the course of his life. Just like Saul (Paul) on the road to Damascus, he had to make a choice….and he chose God.
After his encounter, the Holy Spirit led them to a Full Gospel church, an hour and a half one way from where they live. There they immersed themselves in the church and God's Word. They began listening to many great faith teachers, and soon they had an unquenchable hunger for the Word of God. Not only did they hear the Word, but they were doers of the Word. After serving faithfully at their church for several years, in 1990, the door was opened for them to start their own church. The vision of the church was that of Jesus – "Go into all the world and preach the gospel." So, with a handful of people, the church began and has grown since that day. Their focus from the beginning has been to reach others with the gospel of Jesus Christ, and that is what they have been doing faithfully here at Glory for 28 years.
Sunday School – 9:45 am
Sunday Service – 11:00 am
Tuesday Night Prayer – 6:00 pm
Friday Night Service – 7:00 pm